کلکی اوتار اور محمدﷺ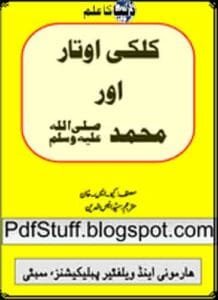 Free download or read online Urdu book "Kalki Autar aur Mohammad SAW", authored by Q.S Khan. Kalki Autar Aur Mohammad P.B.U.H Pdf Urdu book is about a specific prediction in the holy books of Hindus. According to that prediction, a messenger would come. In those books, a biography and some signs of that messenger is narrated and all those signs and biography is matched with the final prophet, Prophet Mohammad Peace Be Upon Him. Many books are published with the same name Kalki Avtar aur Mohammad by different authors including Hindu authors. We will try to publish those books soon. But this Urdu book Kalki Autar Aur Mohammad is written by Q.S Khan. This Urdu books is translated into Urdu language by Sayyad Aneesuddin. Kalki Autar aur Mohammad by Q.S Khan is in Pdf format and a short book of about 8 pages here. You can free download or read online this Urdu book from the blinking button below the sample page.
                                        Brief Information of the book  
Book Name:
Kalki Autar Aur Mohammad SAW
Writer:
Q.S Khan
Language:
Urdu
Format:
Pdf
Size:
6.01 MB
Pages:
8
Download or read on-line the complete book from below
But before downloading this book, please share this book and like us on face book so that you will be informed about our new book through your facebook account.
| | | |
| --- | --- | --- |
| | OR | |